Browse local listings from sellers of used pool tables.  These used pool tables for sale are listed free and we take no responsibility for their accuracy or intent.  You can call us directly to get pricing to move this pool table
*pricing may vary based on the situation at the buyer and sellers home
More Information – Contact us to price a professional move for this table
$ 750.00
USED POOL TABLE BUYERS GUIDE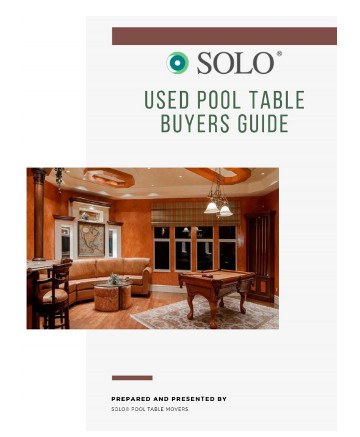 Get your guide Now!
Also, included is a vinyl cover, ping pong table top, and all accessories for pool and ping pong.

Slate: 3 pc. 1" framed, 1 1/4" Brunstone
Length (in):102
Width (in):58
Weight (lbs):855
The baseframe is composed of two full-length side beams, one full-length 2 1/4" center beam and four cross support beams for maximum strength. Base frame made of plywood for superior rigidity.

Eight step furniture finish for beauty and durability.

Solid hardwood rails are supported by and bolted through the slate for maximum rigidity. The floating nut plate design allows rails to be precisely positioned and permanently pulled down to the playfield.

Solid hardwood construction for maximum stability. All wood is kiln-dried to resist warpage.

Pearlized inlaid sights have a maximum tolerance of 30/1000ths of an inch for accurate play.

All pocket openings are made to exacting industry standards and feature leather net pockets with leather shield.

Super Speed molded gum rubber, canvas-backed cushions, the standard of the industry, assure maximum acuracy, true ball rebound and consistent playability.

Three piece matched and registered full sized slate precision machined level to 10/1000ths of a inch and extends beneath the rails for consistent playability.

The Madison's antique line date back to an earlier era. Solid hardwood construction provides maximum stability and the eight step furniture finish highlights the natural beauty of this all wood table. Traditional leather net pockets and shields enhance the Madison's antique styling. Three-piece matched and registered full-size slate provides a permanent level playing surface. Superior rigidity is provided by a base frame composed of two full-length side beams, one full-length center beam and four support beams. The Madison is available in an 8' model in traditional pocket style only.
This Ad has been viewed 273 times.