Browse local listings from sellers of used pool tables.  These used pool tables for sale are listed free and we take no responsibility for their accuracy or intent.  You can call us directly to get pricing to move this pool table
*pricing may vary based on the situation at the buyer and sellers home
More Information – Contact us to price a professional move for this table
$ 2,350.00
USED POOL TABLE BUYERS GUIDE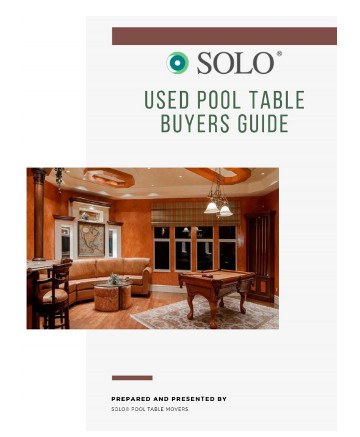 Get your guide Now!
POOL TABLE FOR SALE IN THE SAN ANTONIO AREA.

Excellent condition pool table. This table is listed from a solid company, SOLO®.
Installer inspected

INCLUDES:

Local delivery and installation is included– (can deliver farther distance with mileage charges) DOWNSTAIRS INSTALL OR GROUND LEVEL ONLY
Comes with new Championship Steel Gray felt. New pocket accessories. To change cloth color in any color of your choice, additional charges will apply.
Option to upgrade to Simonis felt for an additional $200.00 to the advertised price.
Comes with new play accessories

The coin-operated mechanism can be set for free play or up to $1.00 per game.
This truly is a unique table in excellent condition, for those of you who want the highest level of quality in your game room at half the price.

Satisfaction guaranteed from SOLO® Pool Table Movers.
The table was inspected by our professional and experienced installer. Guaranteed quality product.
12-month service guarantee on installation and new cloth from the American Billiard Installers Association
This Ad has been viewed 208 times.