How do you really know if you're hiring an experienced pool table mover?
Well…… You don't.  Unless you protect yourself and get our industry exclusive service guarantee.  It's really the only insurance you have.  Believe me, after 25 years in this business, I know.
I'm 41 years old and I always chuckle when I'm talking to a pool table mover for the first time and they tell me they have 15 years experience and they are in their mid fifties.  They have no idea that the kid on the other end of the phone has been working in the biz longer than they have.
Hiring a cheap pool table mover?
Here's an example of an "Experienced" but cheap pool table mover.  Story goes, this person ordered service on his pool table, move and recover.  This job could be a 4-600 dollar job.  Well the installer or "Experienced pool table mover" who did the job made a little error.  This is a common example of lack of experience.
As you can see the rail cloth was incorrectly cut and installed.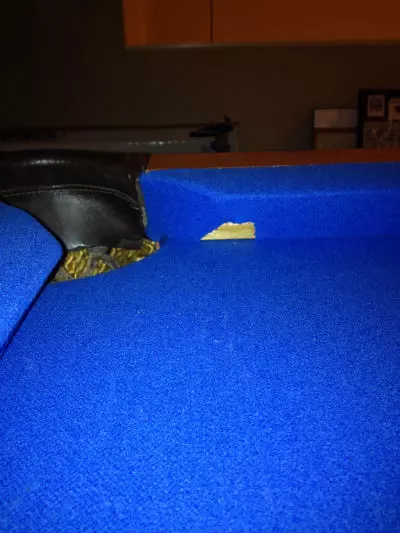 Nice huh?
How happy would you be after spending 500 bucks on this job?
The thing is that when the customer asked the installer to come back and replace the cloth the installer said he didn't have the money to buy another piece of cloth!
Now that's customer service!  Doing business with installers covered under the American Billiard Installers Association guarantee will always protect you in the event this happens to you.
Exactly the thing I fight against every day in this industry.  Our industry is full of low quality people living hand to mouth, and people wonder why we don't discount jobs.
Well, this is what you get when you go cheap, that's why.